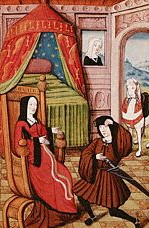 Inerrant
I left my heart with the evening star,
But my eyes have been caught and can't go so far:
My shadow must follow wherever you are.
Where thy will decrees, there perforce am I,
Though a season, a year, or an age pass by
On the quest of a kiss, or but for a sigh.
A moment is a long, long time for lovers!
In a moment your whole life can flash on by
While waiting for your darling's answer—
Or stop forever, in bliss.
My lips to thy hand, and away I stride!
On the wings of my joy will I gladly ride
All thy dragons to slay, and then back to thy side.
If a wound I take, this thy tears shall heal.
If my leg I break, I can to thee kneel.
If my arms grow weak, thou wilt make them steel.
A lifetime is a short, short time for lovers!
At the end of my days it will seem an hour
Since first I heard her breathless welcome
And felt that shock hit our souls.
I found my love in the morning star.
I'll yearn no more nor gaze from afar,
But make my home where thy bright eyes are.
Early in the morning till late at evening
I'll find my pole star
in thee.
—San Diego
3/22/2000
Copyright © 2000 by Green Sky Press. All rights reserved. Backgrounds and images are copyright by their respective authors, who retain all rights.

To the tune of "Love Theme from Phaedra" from the movie Taras Bulba.

This song also appears in my novel The Last-Minute Queen, where the lyrics are credited to a fictional character.